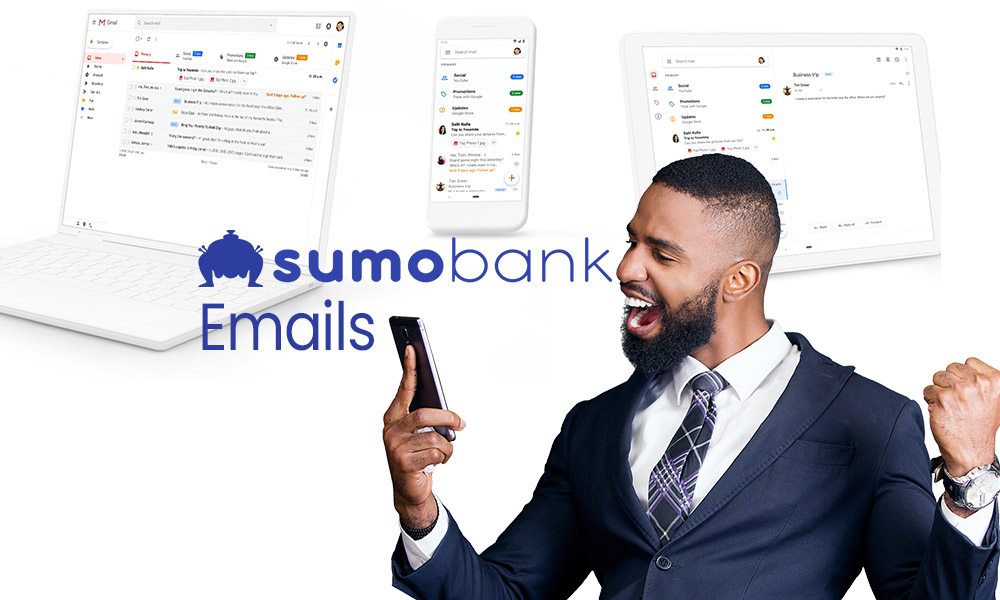 How To Receive Sumobank Emails Directly Into Your Inbox And Not Spam
It has come to our notice that most of our emails to our customers have been going into spam and not their inbox. First we would like to apologize for any form of inconvenience that it may have caused you all these while. Our desire to always serve you better prompted us to prepare this little article to help you structure your email so that Sumobank mails can come directly to your inbox and not into the spam. 
Whether you make use of Gmail or Yahoo mail, this paper will guide you in all that you need to do in order to fix this issue easily and seamlessly. You can always receive or get the email you want directly into your inbox by whitelisting the sender's address.  The spam function works by identifying messages that are likely to be spam and sending them directly to the spam folder so that you won't have to see them. This spam function can also become problematic as it can also identify a message as spam when in actual sense such a message isn't. 
How To Whitelist Sumobank Email Address With Gmail
To whitelist Sumobank email address on your Gmail is quite simple and easy, it only requires your few minutes to through a number of quick steps. This action will help you to put the Sumobank address on your safe sender list, thereby allowing our messages through the spam filter and into your inbox. Now let's go through these steps quickly:
Add Sumobank email address (support@sumobank.ng, no-reply@sumobank.ng and contact@sumobank.ng) to your contacts

 
Oftentimes, Google delivers email from addresses that are in your contact. So the first step is to add our address to your Gmail contacts.
Mark the Sumobank massages as "not spam" 
To do that, you simply go to your spam folder and search for Sumobank messages, after that you click "more" and then "not spam."
Create a filter for support@sumobank.ng
By creating a filter for the Sumobank address, you will prevent subsequent messages from finding their way into your spam folder but rather your inbox. To do this you need to follow the following procedures:
In your Gmail, go to the menu bar and select the settings (gear icon) and choose settings.

Select the "filters and blocked addresses"

Once you are in you select "create a new filter. Perhaps you already have many filters; you would have to scroll down a bit to see the new filter button.

Once you click create new filter, a dialogue box will open or appear. In the "from" field", type in

support@sumobank.ng

.

At the bottom of the of the dialogue box you click "create filter."

The next page that comes up, a message will read thus "when a message arrives that matches this search" select "never send it to spam"

Finally, you then click the create filter bottom.
How To Whitelist Sumobank Email For Yahoo Mail
The first step is to add support@sumobank.ng, no-reply@sumobank.ng and contact@sumobank.ng

 to your Yahoo Mail contacts

Create a filter for the Sumobank address by:
Go to the menu bar and select SETTINGS

On the settings, click on FILTERS, and then ADD

Enter the Sumobank address name as the name that you want to whitelist on the SENDER field
Select your inbox as the folder to deliver the email.

Click the save button, and then click it again
Now our emails will come directly into your inbox. Thank you so much for your patience through this process.