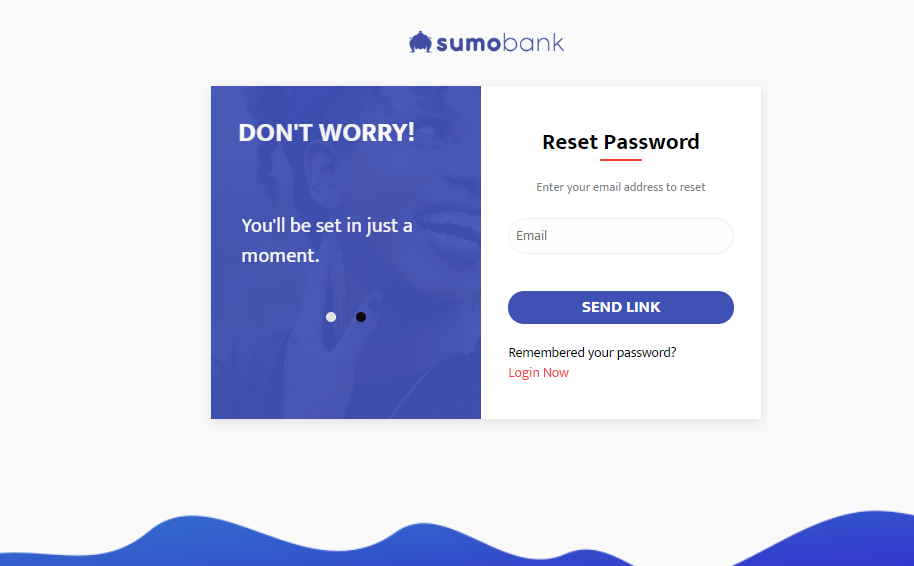 Forgotten your password and you're worried if you've lost your account? Don't be!
I will show you an easy step-by-step guide on how to "reset" your Sumotrust Account and login like nothing happened. But before going any further; please note that by resetting your password, you can no longer log on to your Sumotrust account with the old password even if by chance you're able to recall it.
As promised, below is a guide to reset your password;
Launch your Sumobank App,
Enter your login details. In this case, you're expected to input your mobile number "ONLY" and click on "Forgot Password?" as seen on the diagram below;
You will be redirected to a page where you "MUST" input your registered Email address. By doing this, the system ensures the "reset link" is sent to the user.
Type your Email address and click on "send link" as seen below;
If you've done this correctly, then the next image below should be seen on your device;
Quickly refresh your mail (provided in 4 above) to confirm receipt of mail from Sumotrust.com
Open and click on "link here" or Reset Password  as seen in the mail
The Reset Password tab directs you to the next step, where you're required to choose and create a new password.
NOTE: Your desired password must be a word you can memorize or easily remember,
an alphanumeric combination (set of alphabet and numbers) e.g. Sumobank2018
observe clearly your caps lock and symbol characters. E.g. Sumotrust2018 isn't same as sumotrust2018 or sumotrust2018#
to avoid an error in your password during confirmation, write down the password on a notepad for clarity sake and then copy and paste in the space provided to input password (in figure 6)
Once you're successful with step 6 above; you will receive a verification mail to notify a successful password reset warning you about disabled withdrawal from your account as a way to further help you secure your account from Hackers.
After step 7 above, you can log in to your Sumotrust account and carry out your normal transactions "EXCEPT withdrawal".
But no need to worry; the withdrawal option is ONLY frozen as a security measure and will be made available after 24hours.
Please feel free to report via mail on contact@sumotrust.com or call +234-814-800-8091 if you didn't request for a password change.
Also follow us on our social media handles @Sumotrust on Twitter and Instagram for updates on our product and services.
Let us know if you need anything on the comment section.
Download the Sumobank App here = from Google Play Store or click on the button below.